A Board Certified Psychiatrist Shares Surprising Facts About Depression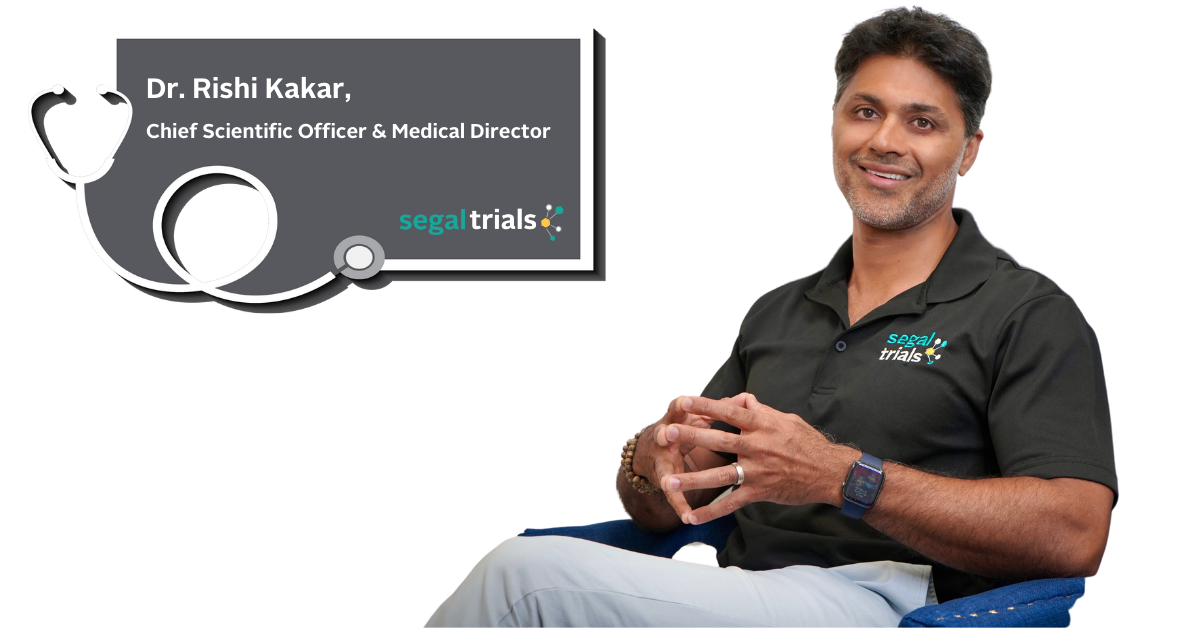 Depression is often thought of as feeling sad. While sadness is a symptom, depression is more complex than people may realize. In an interview with Segal Trials' Chief Scientific Officer and Medical Director, Dr. Rishi Kakar, MD unpacked the interconnected causes, symptoms, and treatments of depression. In brief, "When you know someone with depression, you only know one depression," Dr. Kakar stated. Below are the top facts and statistics Dr. Kakar shared about depression that may surprise you.
1. There are two consistent symptoms of depression

.
As above mentioned, depression symptoms and signs vary by every individual. For example, for one person experiencing depression, they may be sleeping excessively, and for another person living with depression, they may be unable to sleep.
That said, there are two consistent signs of depression. Dr. Kakar shared, "One is that a person's mood is much lower than what is typical for them. The second symptom is a lack of interest in engaging with one's community." These two symptoms may look different based on the individual's personality. When a psychiatrist or psychologist is discussing symptoms with a patient, they are looking at the frequency and intensity of symptoms. For example, if an extroverted person is not engaging with their community as frequently as they usually do, then that is a sign something is off. Dr. Kakar emphasized, "If you're feeling off, don't ignore those signs. They may be symptomatic of depression, and it's a good idea to talk through what you're feeling with a loved one, therapist, or other local resources."
2. Depression is underdiagnosed and thus undertreated.
According to the World Health Organization (WHO), approximately 5% of the world has depression, which is around 300 million people. But the number of people living with depression is likely much more than 300 million people.
Since COVID-19, anxiety and depression have increased drastically. In fact, there has been a 25% increase in anxiety and depression worldwide. Moreover, in 2010, major depressive disorder (MDD) was the 4th leading cause of disability; the WHO projected that MDD would be the 2nd leading cause of disability by 2020. Additionally, as Dr. Kakar shared, "Approximately 60-70% of people are not yet diagnosed with depression."
Dr. Kakar explained, "Many people visit their primary care physician (PCP) for underlying causes, such as loss of appetite, sleep problems, high blood pressure, other somatic symptoms, or a combination of symptoms. But patients and sometimes even PCPs don't recognize these are symptoms of depression." Without receiving a proper diagnosis, patients are then not treated for their depression and won't see an improvement in their symptoms.
3. Depression negatively impacts society and the economy
Depression symptoms, including a more pessimistic outlook, decreased motivation, reduced concentration, sleep deprivation, and more, affect all aspects of a person's life and their functionality. Someone who is unable to operate at their typical level of functionality may take more sick days or have difficulty completing work or school related tasks. As a result, the economic burden of depression is substantial. For example, in 2016 alone, the indirect cost of depression in the U.S. was $233 billion.
4. Depression can affect anyone, but some people are at
an increased risk.

Approximately 23.2% of adults in the U.S. have symptoms of depression. That's around 75 million people. There is a growing number of teens, especially teen-age girls, who are developing depression. Women are twice as likely as men to be diagnosed with depression. There are higher rates of MDD among people of color compared to white people. Overall, depression and the severity of symptoms vary by person, but depression disproportionally affects some groups of people more than others.
5. With treatment, patients are likely to see improvements in their symptoms.
Of people who receive treatment, around 40-60% of patients see improvements in their symptoms. While patients' symptoms may not entirely disappear, they gain a level of function back, which makes things a bit better. Dr. Kakar shared, "When a patient sees even a little bit of progress, they become more motivated to continue treatment and strive to get even better."
"Depression is polymorphic, so it takes time and multiple treatments to see results," Dr. Kakar further explained. Ultimately, it is best to talk with someone if you or someone you love is experiencing depression symptoms; and it's best to start treatment sooner than later. Fortunately, there are many great resources, listed below.
6. There are many avenues to seek help.
If you are living with depression know that you are not alone. "In many cultures, especially in the U.S., depression is looked down upon, and in some cultures, depression isn't even acknowledged. That's why it's so important to get connected with support groups and local resources to create a community and normalize your symptoms," Dr. Kakar shared.
Dr. Kakar shared the below resources as avenues for support.
NAMI is an organization that provides resources and outlets for people to access support for mental illness. They have local and national support groups and chapters in every state. You can contact them at 1-800-950-NAMI (6264), helpline@nami.org

,

or text "HelpLine" to 62640.

Therapist

Your primary care physician (PCP) likely has a network of psychologists and psychiatrists and can connect patients with therapists. You can also search online for local therapists or ask a NAMI representative.

Trusted friend or family

You can always rely on your community. If you are struggling and need support, you can confide in a close friend or family member.

If you are or a loved one is in crisis, call or text the national Suicide and Crisis Lifeline at 988. It is available 24/7, and the support representatives speak English and Spanish.