Can Women's Health Clinical Trials Benefit You? Ask an Expert!
Unraveling the World of Women's Health Clinical Trials: What You Need to Know
In today's fast-paced world, women are often seeking the most advanced and effective treatments for their health needs. But did you know that clinical trials can offer groundbreaking opportunities? Welcome to the realm of Women's Health Clinical Trials, and discover how they can benefit you!
A Glimpse into Segal Trials
Founded in 1998, Segal Trials stands tall as a leading network of six research hubs scattered across the picturesque landscapes of South Florida. Known for their Phase I-IV research trials, they are trusted partners of top pharmaceutical companies around the world. With a proven track record of contributing to 57+ FDA approved drugs and medical devices, their expertise spans from Women's Health, Psychiatry, Neurology, to even Psychedelics Research.
Meet the Expert: Dr. Chavoustie
Dr. Chavoustie is a beacon of knowledge and experience in the world of Women's Health. An alumnus of the University of Miami, she has dedicated years to advancing clinical research, especially in women's health and STI. Beyond his impressive credentials, Dr. Chavoustie wears multiple hats - a medical leader, a contributor to global health, and, interestingly, a rock'n'roll musician!
Why Consider Clinical Trials?
Clinical trials are not just about testing new drugs. They offer a multitude of benefits:
Continued Healthcare Support: While participating in a trial, patients receive ongoing medical attention.
Early Access to Treatments: Get treatments even before they hit the mainstream market.
Exclusive Diagnostic Methods: Be a part of innovative diagnostic techniques.
Diverse Treatment Options: From menopausal treatment to early cancer screenings, there's a wide range to explore.
Financial Benefits: Participate and avail free transportation, compensation for time, and even financial incentives through the Refer A Friend Program.
Miami's very own influencer, Amanda Carola, took a leap of faith with a clinical trial and found the experience seamless. Dive deeper into her journey or join her tribe on Instagram @amanda.carola.
Shape the Future of Women's Healthcare
Imagine playing a pivotal role in advancing women's healthcare! Whether it's by participating in a trial, referring a friend, or simply spreading the word, each action counts. Check out currently enrolling studies by scanning the provided QR code. And remember, your successful referrals come with a $75 token of appreciation!
Missed our Webinar?
Craving more insights? Check out our webinar, "Can Women's Health Clinical Trials Benefit You?" hosted by the expert himself, Dr. Chavoustie. Understand the intricate details of clinical trials and how they are revolutionizing women's health.
Let's pave the way for a brighter and healthier future for women everywhere. Dive into the world of clinical trials, and discover how they can reshape healthcare!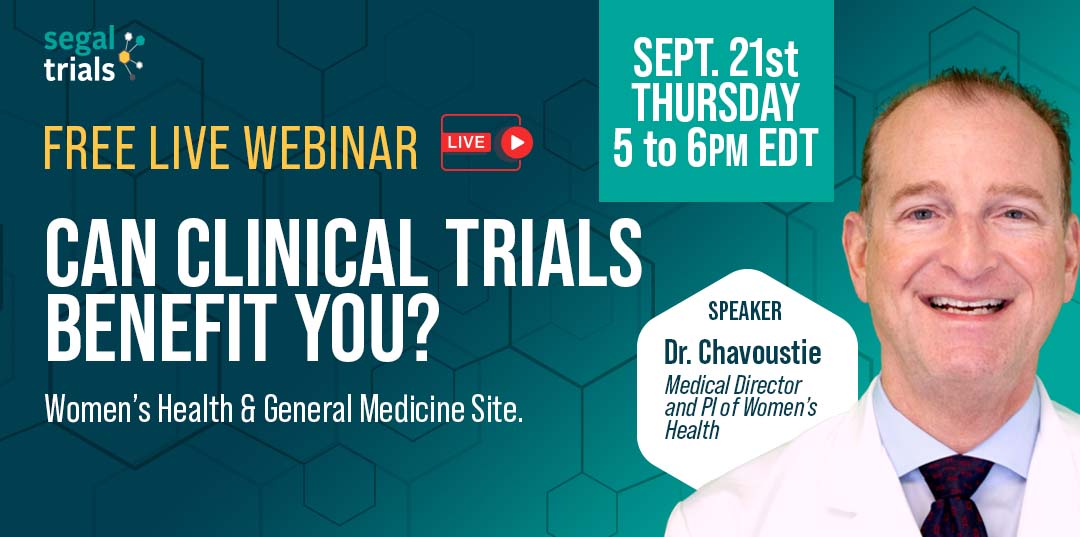 Women's Health, Clinical Trials, Segal Trials, Dr. Chavoustie, Research, Medical Advancements, Care Options, Miami.
Segal Trials Official Website, Connect with Amanda Carola on Instagram.